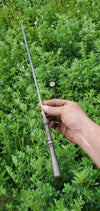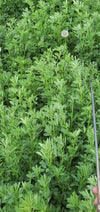 Wingardium Levio-Steak - bbq flipper
Is it LevioSTEAK or LeviOHsteak? Make those steaks LEVITATE.
Treat your next BBQ like an epic wizard duel with Wingardium Levio-Steak! This awesome steak flipper doubles as a magical wand, hand forged from steel with the craftsmanship and attention to detail you'd expect from a Hogfarts professor. Be the envy of your wizarding friends, with the Wingardium Levio-Steak! Yer BBQ will never be the same!!
This is a flipper I made between pans as a mind cleanser. Hearkens back to colonial patterns in the handle, yet also feels quite wand-like. Glossy brassed steel, small orb/egg to ponder in the middle, faceted octagonal orb before the drop to the hook tine. Lots of fiddly bench work in this one.
Steel. Brass. Beeswax.
That's all.