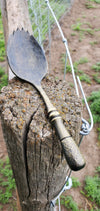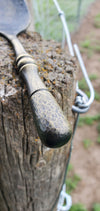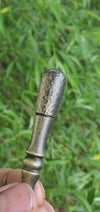 "Tooth" small hiking spork- Back Country Eatin' Tool - spork only - one off
Steel. Brass. Beeswax.
That's all.
Rustic eatin' tools for the ranch hand or rustler. Short stubby pack tool. Small for takin', handy for eatin'.
This is a one-off spork I made between pans as a mind cleanser. Hearkens back to colonial patterns. Glossy brassed steel, small orb/egg to ponder in the middle. Lots of fiddly bench work in this one.