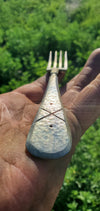 Back Country Eatin' Tool - Fork only - one off
Steel. Brass. Beeswax.
That's all.
Rustic eatin' tools for the ranch hand or rustler. Includes fork and spoon.
This is a one-off fork I made between pans as a mind cleanser. Hearkens back to colonial patterns. Facets, chiseled motif, glossy brassed steel, small orb/egg to ponder in the middle. Lots of fiddly bench work in this one.
Dims:
About 8in long, forged from 1/8in steel.